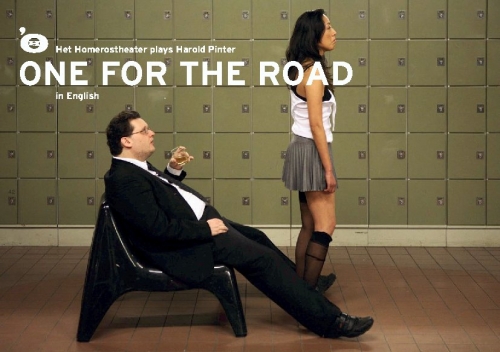 2006 – 2007

Author: Harold Pinter
Director: Arne Sybren Postma
One for the Road (1984) by Harold Pinter is one of his more famous short plays. Nicolas has invited a complete family – father, mother and eight-year-old son – into his sinister state institution for a good questioning:
What about you? Do you love death? Not necessarily your own. Others'. The death of others. Do you love the death of others, or at any rate, do you love the death of others as much as I do?
One for the Road played at the International FEATS 2007 (Festival of European Anglophone Theatrical Societies) at the Koninklijke Schouwburg in The Hague
The adjudicator wrote:
An invisibly linked row of white tables and two office chairs gave a deceptively conference room appearance to what was to become the scene of a chilling interrogation in Harold Pinter's One For The Road presented by Het Homerostheater of The Hague. Dramatic electronic music helped to keep the tension as Nicolas, the interrogator, played out his games of psychological intimidation. His smooth, quiet delivery belied his sinister, sadistic nature. The four characters all gave strong performances in this riveting production.
We played at the CULTURALIS Theater festival, at The American School of The Hague in Wassenaar and at het Kennemer Lyceum in Overveen.
Cast
Herman Duchenne as Nicolas
Ed Balsters as Victor
Joel Balsters as Nicky
Simone Bergmann as Gila